Creative Services
inkle make beautiful interfaces and natural design to bring any project to life.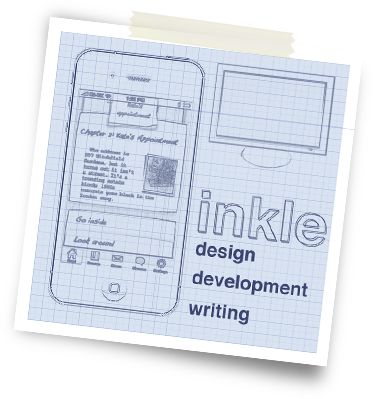 What we do
Entertainment
iOS app development
Video game development
Writing
Interactive writing
Narrative writing
Copy writing
Web and design
Web design and development
Interactivity and HTML5
Brands and logos
Digital innovation
Rapid prototyping (web, games, apps)
Idea generation
Professional Design
We specialise in characters, narratives and stories, but we've also been involved in the design of several games, from action-adventure console titles, to simulations, tools, web-sites and applications. We provide design and prototyping services as well as full app development.
We don't like compromise. We aren't satisfied with the first solution; we find the best solution. We strive for simplicity. We strive for perfection. We aim for a beautiful level of polish, but we're also realistic. With a background in developing triple-A quality video games, we're also experts at judging the scope of features and projects.
Versatile Skills
As a small company that likes to work in many different disciplines, we love variety, and that keeps us versatile.
If you've got a project and you're wondering how to get it up to the professional standard the modern app market demands, then get in touch!