Frankenstein, for teachers
Our recent
Frankenstein
app, written by Dave Morris and published by Profile Books, provides an interactive retelling of Mary Shelley's classic novel. Covering the same fundamental themes as the original novel, the interactive format provides a rich and compelling way to experience the text.
How does it work?
The interactivity in
Frankenstein
is designed to provide the reader with a conversation with the text. The novel is narrated by Victor Frankenstein, and also in parts by the monster, with the reader providing responses, advice, and an opinion on the events that are occurring. By choosing to condone or condemn Frankenstein's actions, by supporting him or antagonising him, the reader builds up a unique relationship with the character, and can explore the different reasons and motivations behind his actions. This allows the reader to have a unique experience of the novels rich and varied themes.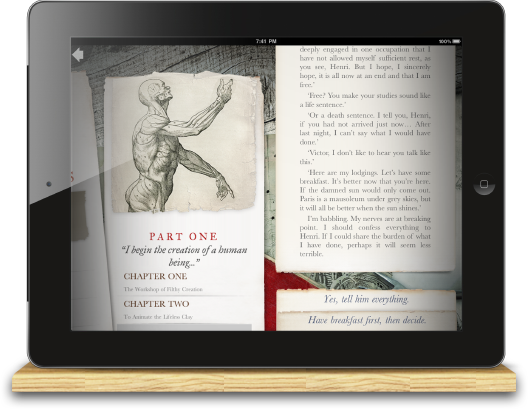 How can students use it?
Frankenstein
provides, in some ways, an easier introduction to the text than the novel; the prose has been rewritten to suit a more modern audience, and the interactivity breaks the reading into short chunks, with the question-and-answer format giving students opportunities to reflect on what they've read and respond to it. For students who have already studied the text, the interactivity provides a way of exploring different takes on Mary Shelley's story and the characterisation of its protagonists.
Can you change the story?
No — this is an adaptation, and not a game. It's like taking your class to the theatre to see a production, except that the play each student will see will be slightly different.
What platforms is it available for?
Frankenstein
is available for iPad, as well as iPhone and iPod touch. For the best classroom experience, we recommend the iPad version. With the correct set-up, this can also be projected for the whole class to share the reading experience together.