inklewriter
At inkle, we believe it takes great writers to tell great stories.
That's why we've created inklewriter, to help writers tell interactive tales with the minimum of fuss. inklewriter keeps your branching story organised, so you can concentrate on what's important – the writing.
inklewriter is a free tool designed to allow anyone to write and publish interactive stories. It's perfect for writers who want to try out interactivity, but also for teachers and students looking to mix computer skills and creative writing.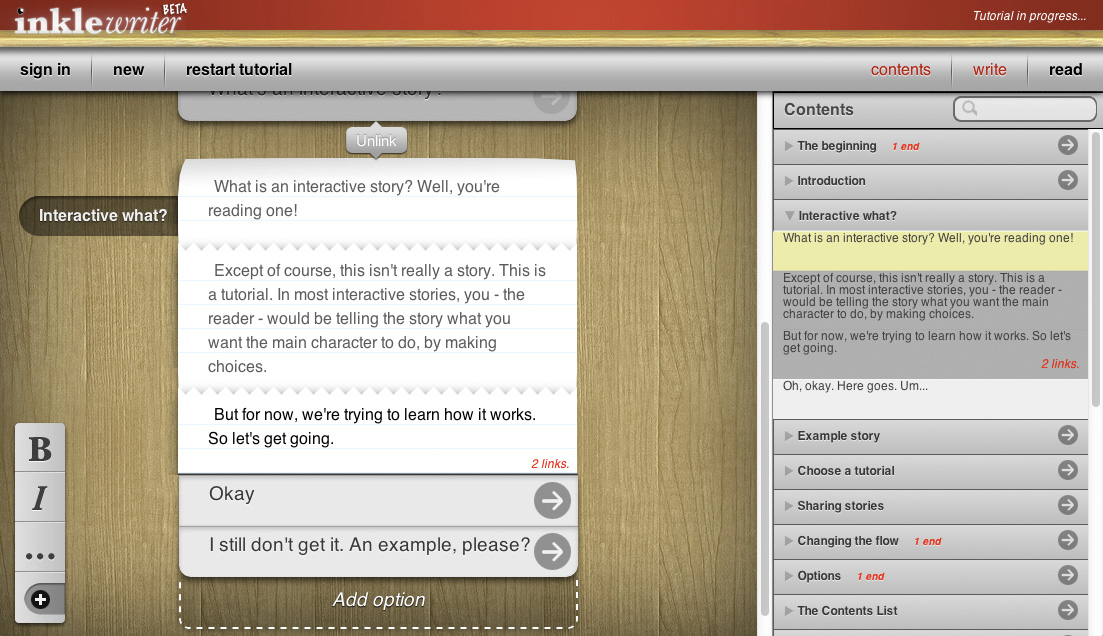 Write as you play
The inklewriter lets you write as you play, branching the story with choices, and then linking those stories back together again. It keeps track of which paths you've finished, and which still need to be written.
There's no set-up, no programming, no drawing diagrams – so there's nothing between you and the empty page. Oh, and it's free to use. And once written, you can share your stories with whomever you like.
Your stories, to share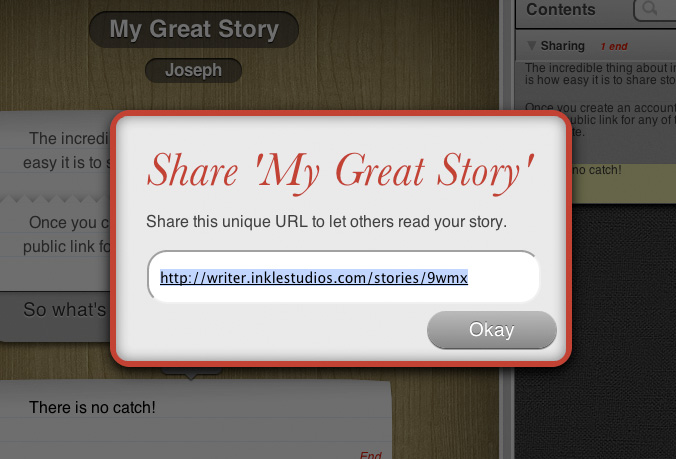 Every writer needs a readership, and with inklewriter you can share your story with the world, because every story is given its own unique web-page that you can share however you want.
For game developers
inklewriter is a perfect tool for drafting, testing, and authoring interactive content. The tool creates story-data in a straight-forward, easy-to-use fashion which can be read directly by your game engine. inklewriter is already being used by several projects, including Stoic Studio's The Banner Saga (read about how here). If you'd like to use inklewriter for your game, please get in touch!
Export to Kindle
You can even get your story converted to Kindle.
Read our page
to find out more!
The Future Voices anthology
As part of our drive to support new writers and interactive story-telling, last year we ran a competition for short interactive stories. Judged by a panel of published and game designers, the winning 11 stories are available in the free Future Voices app, for iPad and iPhone.
Read more about it here
.
inklewriter in the press
We've been mentioned in a few articles around the internet – here's a selection:
And we're not done yet…
inklewriter is constantly being developed and improved, and we're adding new powerful features all the time. Stay abreast of current developments on Twitter @inkleStudios using our hashtag #inklewriter, and let us know what you think!