To The Pole - And Bring a Robot!
We're happy to announce that 80 DAYS will be finally be making it onto Android platforms, via Google Play and the Amazon App Store, before the end of the year.

Releasing on December 16th, the Android version will contain some brand-new additional content, taking the loyal Passepartout and the implacable Monsieur Fogg on their most dangerous journey yet: into the icy Arctic wastes of the North Pole, as they attempt to short-cut their wager. Pack your furs: it's cold outside.
The new content will also be available to iOS players via a free update.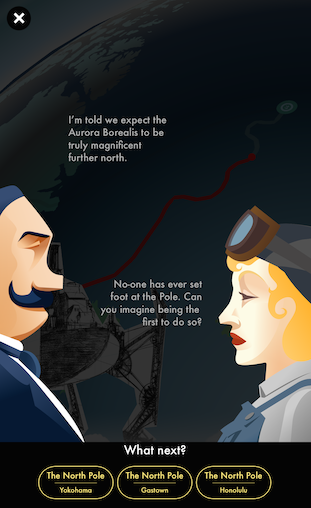 The extra journeys clock up at 30k more words, which is a third of a novel but only a 5% increase in the game's text - text which has just earned our lead writer, Meg Jayanth, a nomination in the UK Writer's Guild awards. The winners aren't announced until January but we'll be biting our nails for her in anticipation.
comments powered by

Disqus