The Crown of Kings awaits...
It's been too long since we posted any concrete news about Sorcery! 4, the final part of the narrative epic that's been keeping us busy since 2013.

It's finished... again
Writing on the game has now finished, again. That means we've done our first pass, fleshing out all the rooms, encounters, characters, secrets, jokes, puzzles, hidden endings. And we've also done our second pass, playing through everything, smoothing it, checking for logic and story consistency, and getting the pacing as slick as we can.
We're now embarking on the long process of beta-testing - gathering feedback from early players, and hunting down all the strange nooks and crannies of the story-flow. A lot of the details can and will still change at this point - good ideas are never thrown away, even close to release - but if we had to put down our pens tomorrow, we could, and the game would work.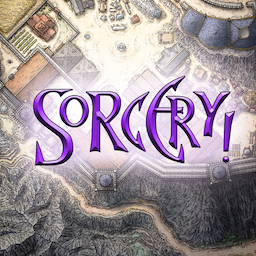 There are multiple endings, but more importantly, multiple states for multiple endings. But there is also an ultimate ending of sorts, better than the others.
All in all, Sorcery! 4 now stands at half a million words, putting it bang in the middle between Sorcery! 3 and 80 Days.
But that's not all!
Even with the writing completed, there's still lots for us to do. There's new audio to gather, and new art to get into the game, and a pile of new code to write as well.
For the first time, we'll be integrated 3D models into the map. These models are still being hand-painted by our cartographer/illustrator Mike Schley, and we've got to make sure they play nicely with the in-game camera. We've also got an epilogue sequence to build, that will suitably reward players who have made the journey all the way from Analand to Mampang and returned with the Crown of Kings intact.
One thing we have got finalised is Laurence Chapman's new theme - as recorded by live orchestra.
Concluding part and new adventure, all in one
One of the things that's made this part a real writing challenge is ensuring that it provides a complete experience for people picking up the Sorcery! series for the first time, while also providing the epic conclusion that returning players deserve. Over the last three games we've seeded a lot of characters and story points, as well as giving the player a lot of choices to carry with them.
(A Sorcery! 3 game loaded into Part 4 brings with it over nine hundred individual story-flags, ranging from whether or not you destroyed a city, to how many gold pieces you have in your pocket, and whether or not you know the name of the witch in the Shamutanti woods.)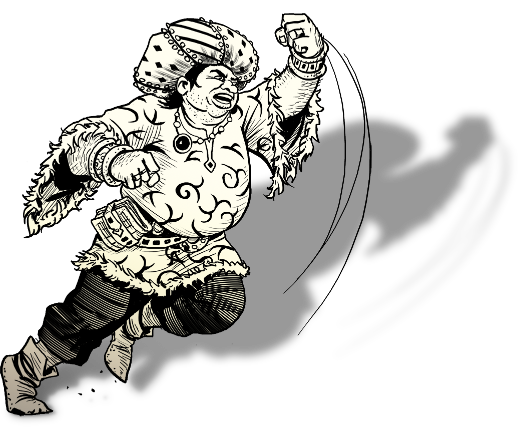 Thankfully, we've got a few tricks up our sleeve for bringing new players up to speed...
All platforms, all at once
For the first time, we're planning to launch the game on the App Store, Amazon Store, Play Store, Steam, Humble and Green Man Gaming all on the same day. You can buy the game on any platform to continue your adventure - cloud saves work from one device to another. (Just remember to write them down somewhere!)
And while Mike's latest map looks glorious spread across a desktop monitor or an iPad Pro, we're working hard to ensure the mobile experience is still just as tight and playable as its ever been.
So what's the date?
Later this year. Apologies, we don't want to commit to a date until we know we can hit it!
But we can't wait to open the gates and let you into Mampang - it's weird, terrible place, full of ancient, decaying magic, foul mutants, crosses and double-crosses, and secrets. This is our toughest, most intricate - and we hope, most rewarding - Sorcery! adventure yet.
comments powered by

Disqus