ink: the official user's guide, is out now!
Newly released via the inkle bookshop: the official user's guide to the ink scripting language.
Consisting of three parts, the guide covers everything from installing the software, to integrating it with Unity, through to using more complex patterns and tricks to push the limits of what's possible in your interactive stories.
Suitable for beginners, but with something to offer the expert, the official guide is the definitive companion to ink.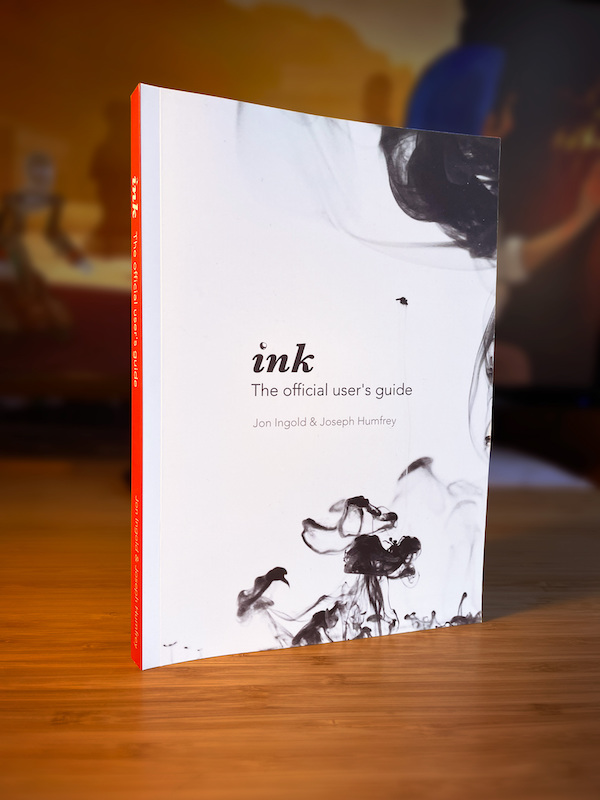 The guide
The guide has three parts: Writing with Ink, Running your Ink and Ink Patterns.
Writing with Ink is the manual contained within inky, which guides you from first principles, through to the more complex features of the language. The guide's version is up-to-date with the latest language features, and has been thoroughly revised with new examples.
Running your Ink is also revised from the free copy available with the ink repo: the new version contains additional sections on profiling your ink, managing save files between release versions of your game and localisation.
And the third part, Ink Patterns, is a new release that pulls together several tricks and ink structures we've developed over the years. Some of these have been previously released via Patreon and on Discord; but we've pulled them together and organised them into sections covering lists, loops, shuffling choices, decision-trees and more.
comments powered by

Disqus