Steve Jackson's Sorcery! for iPad and iPhone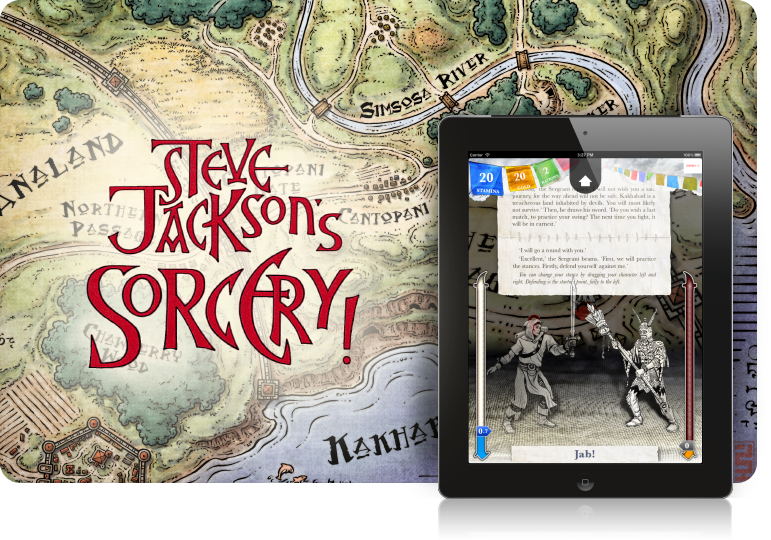 UK game designer Steve Jackson has teamed up with software company inkle, developers of the rave-reviewed Frankenstein app, to bring his epic Sorcery! saga into the twenty-first century, as a series of four cutting-edge iPhone and iPad apps.
An innovative blend of RPG, table-top game and interactive story, Steve Jackson's Sorcery! is an epic fantasy adventure in which every decision counts and YOU are the hero.
Says Jackson:
"

The Sorcery! gamebook series was an epic project which took up a significant portion of my life between 1983-1985. I have always wanted it to be brought up to date with 21st Century technology. But only with the right developer. In entrusting Sorcery! digital future to inkle I am confident they will not only be able to convert the originally adventure faithfully to digital formats but also that they will take it beyond the original into new realms. Those who have seen their re-working of the Frankenstein story will know what I mean. This is not just a straight translation of the original books to iOS. This will be a brand new Sorcery! experience."
Jumping beyond the printed page
The new adaptation is massively expanded from the original, allowing you to explore the world of Sorcery! as never before. Visit every location, talk to every character, outwit every monster and trap.
Plot your journey across the game's 3D map, exclusively created by fantasy cartographer Mike Schley. Every path will bring new dangers to face and new stories to uncover. Explore your own way, by rewinding the story and trying other paths at any time.
Decide your fate at every step of the story, with no decision wasted. Every choice you make is remembered, changing your character and altering the path the story will take.
Battle against monsters using a simple but deep sword-duelling mechanic. Every enemy has a unique strategy, so that learning their weaknesses is key to defeating them. Every fight becomes part of your story thanks to a unique procedurally-generated writing system that describes the action, blow-by-blow.
The unique Sorcery! spell-casting system has been redesigned for touch-screen devices. Master nearly fifty spells, with weird and unusual effects with the power to change the world and the story.
A truly epic adventure
Inspired by Jackson's experiences in Nepal, Sorcery! takes the reader on a dangerous journey across the fantastical wilderness of Khakabad in search of the legendary Crown of Kings. Armed with a spellbook and a sword, the adventure pits you against a devilish host of traps, riddles, witches and monsters.
Told across four episodes, the series gets progressively more complex and difficult. Its final volume, The Crown of Kings, gained near-legendary status for the ingenuity and depth of its puzzles and writing.
Real-time storytelling
Nothing is certain in Sorcery!, and inkle's game-engine can customise every aspect of your story based on how you play. The choices you make will develop your character, altering your opportunities and how people in the world respond to you. Will you be a rogue, a thief, a saviour, a tradesman? Are you cruel or generous; smart or forceful, charming or rude? Will people trust you - and can you be trusted?
More about Steve Jackson
Steve Jackson is the co-founder with Ian Livingstone of the enormously successful Games Workshop chain and the million-selling Fighting Fantasy series. He is also co-founder with Peter Molyneux of Lionhead Studios, creators of the Fable series. In 1988 he designed and directed the Fantasy Interactive Scenarios for Telephone project (FIST); producing the first ever games to be played on a telephone.

More about inkle
inkle is Jon Ingold and Joseph Humfrey, the team behind Dave Morris' Frankenstein app, which was widely praised as "brilliantly designed", "a new kind of ebook", "beautiful", "gorgeous", and "the best interactive fiction yet". They're also the creators of inklewriter, a free website allowing anyone to write, illustrate and share their own branching stories. They've worked with Penguin, the BBC, English National Opera and Ian Livingstone, among others.
Before founding inkle, Ingold was a lead designer for Playstation, and the award-winning author of over a dozen interactive fiction games. Humfrey has designed and developed titles for all the major consoles in a career with Playstation, Microsoft and legendary studio Rare.
Coming soon
The first part of Steve Jackson's Sorcery!, The Shamuntanti Hills, will be available in the App Store in early May, with the second episode, Kharé: Cityport of Traps to follow in summer.
To find out more, visit http://www.inklestudios.com/sorcery or follow @inkleStudios on Twitter.
---
Further information
Media and resources