Kindle conversion service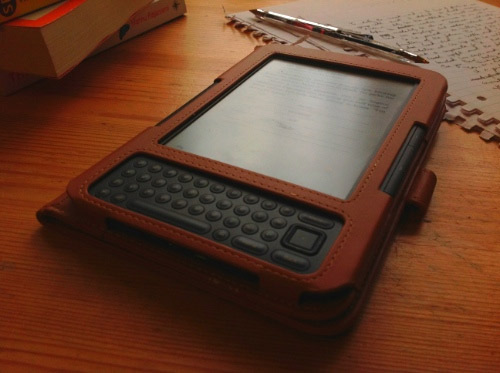 For a small fee of £5 (or $10) we'll convert your inklewriter story into an ebook file that can be read on your Kindle, or sold through Amazon. The ebook reads like a normal Kindle ebook, except that choices are included using hyperlinks. All your story logic – counters, markers, if conditions, joins – will be preserved.
The ebook includes a page of instructions for your reader on how to use it; as well as a blank page where you can insert your own opening quote, dedication, or introduction to your story, if you want to.
Try an example story
Here's an example: The Intercept, a short story about WWII code-breakers.
How does it work?
It couldn't be simpler. Here's what you need to do:
Write a story using inklewriter. Make it as good as you can. Get your friends to proofread it for you.
Create a cover. This should fit with Amazon's guidelines which means a JPEG file that's 1000 pixels tall by 625 pixels wide, or larger but in the same ratio. They also recommend using colour, but making sure it still looks good in grayscale. Please make sure you own the copyright to images you use, or they're freely available. (Wikimedia Commons is a great source of rights-free images.)
When you're happy, open up an email to inklewriter@inklestudios.com. Send us:

the share link of your story
the genre
the cover
An opening quote, dedication, or introduction page, if you want one. (And if you want to include formatting, please use simple HTML only!)
the language you're writing in

And please send your email from the email account you signed up with!
We'll check that everything's okay. If it is, we'll ask for payment via PayPal and send you your Kindle file.
Once received, you can upload to Amazon's self-publishing scheme and sell it; or copy the file onto your Kindle over USB... whatever you want.

The small print
It's your story, and your Kindle file. Give it away, publish it, share it, charge for it - whatever you like. All we ask is that the legal line "created using inklewriter" remains.
You can include images in your Kindle file.
Make sure you own the copyright to everything you submit to us, including for images! Any infringement of copyright will be your responsibility, and not ours.
Stories can be any length, but there's a limit to how complex the story can be for the conversion. A story with large loops and lots of conditionals used inside those loops can cause difficulties. If you think your story might be getting too long, drop us an email and we'll check it out for you.